Session Rates
Single Session Rates -Morning /afternoon/evening - a period of up to 4 hours approx
Small Hall OR Kitchen/Club Room only £12
Main Hall and Kitchen/Club Room £36
Main Hall only £24
Double Session Rates - up to 8 hours approx
Small Hall OR Kitchen/Club Room only £20
Main Hall and Kitchen/Club Room £60
Main Hall only £40
Full Day Rates
Small Hall OR Kitchen/Club Room only £30
Main Hall and Kitchen/Club Room £90
Main Hall only £60
Hourly Rates
Small Hall OR Kitchen/Club Room only £6
Main Hall and Kitchen/Club Room £18
Main Hall only £12
Small Hall OR Kitchen/Club Room only £6
Main Hall and Kitchen/Club Room £18
Main Hall only £12
All of the below can be included as part of a hire agreement;
Fully equipped with Crockery and Cutlery.
Appliances include Hob, Oven, Microwave Oven, Water Boiler, Tea Urn, 2 Kettles and Refrigerator.
Some appliances are transferrable between the Kitchen/Club Room and the Small Hall.
The Small Hall also has small kitchenette facilities and a Refrigerator.
Tables and chairs.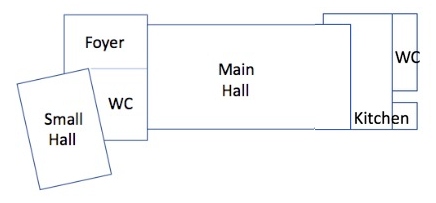 Book now!
We are now taking bookings from 21st June 2021
Please read and agree to our Hire Agreement and we ask that you read our Conditions of Hire and also the Supplementary Conditions of Hire (Covid19)
Please note when booking, do allow extra time for setting up before your event and cleaning at the end of your booking.
If you can't see what you are looking for or would like help with your booking, please email here.
Please select an area to hire and a date then click on the 'Check Availability' button.